"Partnering with Trabian was one of the best decisions we could have made. Trabian was responsive, deadline-driven and readily available to help with problem-solving."
Lori Holmes
Vice President of Marketing
Bellwether Credit Union
Let's work together
No matter the project, our number one priority is to partner together to deliver technology that accelerates your business and improves upon customer experiences. Whether we're enhancing your digital banking platform, redesigning your website or improving your back-end processes, Trabian is always working with you and your goals in mind.
Software Development and Platform Integrations
Our expertise lies in customizing and innovating digital banking capabilities, enabling you to offer seamless, user-friendly experiences to your customers. Whether you are a traditional financial institution or an innovative fintech, we have the experience, knowledge and tools to build tailored solutions for success.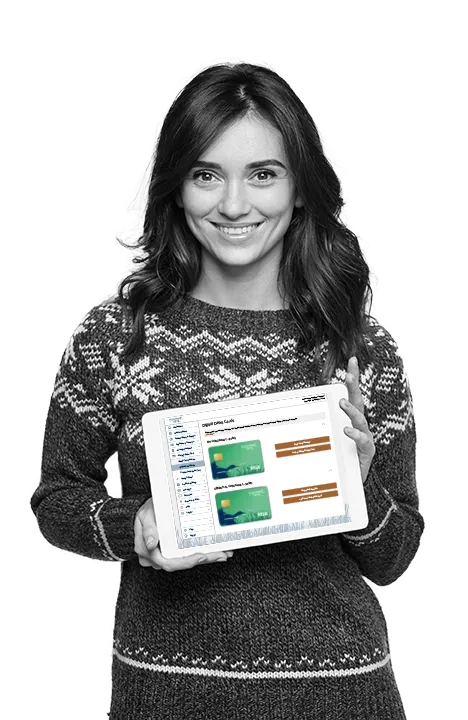 See how Trabian turned Chesapeake Bank's Digital Debit Card idea into a reality
Through our longstanding relationships with some of the most reputable providers in financial technology, we helped bring Chesapeake Bank's idea for a digital debit card product to life. Check out the promotional video, and reach out to us to learn more about implementing this for your own customers.
Read the Case Study
Web Development & Creative Services
We build websites with financial services in mind.
When it's time to modernize your website to be accessible, functional, and beautiful, Trabian is here to build it for you. We will help you come up with a comprehensive strategy to improve user experience while building everything from the basic layout to the overall design along with content work and reliable secure hosting all on top of our Canvas built-for-banking CMS.
Learn about it
"I would describe [the relationship between Trabian and SmartyPig] as very collaborative," says Aisha Gibson, Senior Product Marketing Manager. "We're able to communicate quickly and easily."
Data Automation & Analytics
At Trabian, we specialize in providing cutting-edge data automation and analytics services tailored specifically for financial institutions. Our mission is to empower your institution with the tools and insights needed to make informed, data- driven decisions that drive your business forward all while fulfilling regulatory requirements.
200+
Implementations in production across industry leading digital banking platforms.
99.96%
Uptime in 2023 across Trabian hosted websites and web applications.
215+
Combined years of team experience in financial services.
20
Years of serving community based financial institutions.
Since 2003 we've launched hundreds of websites, platform integrations, products, and banking applications for some amazing Clients.

The latest from our blog:
As we ramped up our outreach, we ended the second quarter with a record-setting roster of clients and projects
It was 2003 and the Dotcom Bubble had already burst. Businesses who were still standing and willing to bet on the Internet were finding a new way forward. 
The piggy bank as we know it is over 800 years old. Yes, you read that right — banks in the shape of pigs were first used in Java in the 12th century.